Duct Inspecting Robots with Gary and Robert of DuctBotz.com – 2.21.2023
In this 73rd episode of About the House with Troy Galloway, Troy talks to Gary Croshaw and Robert Rizen about GC Inspection Botz. Find out why their robot is quicker and more reliable than outdated tethered robots currently being used to inspect commercial ducts.
Contact Gary Croshaw, the President of http://gcindustrialservices.com/, by calling 314-680-8630 or visit the website at https://ductbotz.com/
 Submit your questions at the Galloway Building Services Facebook page https://www.facebook.com/GallowayBuildingServices
 About the House brought to you by http://gallowaybuildingservices.com/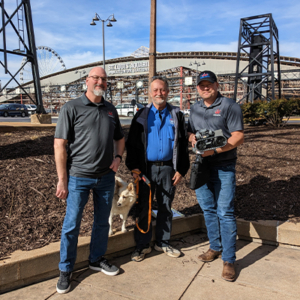 WHAT'S INSIDE
1:19 Gary Croshaw is the president of GC Industrial Services
2:50 How big of ducts can the robot fit through?
4:00 Older robots are tethered and not in high enough definition
4:30 The robot transmits vital information back to the user
6:03 The robot can follow you as you walk next to it
8:25 Do hospitals need to get their ducts inspected regularly?
10:10 Legionnaires Disease
12:25 Fiberglass duct liners can fail and spread black particulate
16:00 A healthcare facility fired another robot company for low resolution videos 
20:00 Filthy restaurant ducts
21:30 Asbestos (Link to past episode with Precision Analysis)
21:30 Robert Rizen, the vice president of GC Industrial Services, has been a duct cleaner for 30 years
23:00 Climbing vertical ducts and chimney inspections
25:00 Crawl space inspection
26:10 Electric shock hazards?
27:15 Troy found a mama racoon and her babies
28:20 Restaurants cook with powder and attract bugs
29:00 How much do the robots cost?
30:30 GC Industrial Services also does the cleaning
31:00 How many prototypes of the robot has there been so far?
32:14 https://www.meyermachine.com/ is the distributor 
32:10 How does the robot save money?
37:30 Roofers use drones too
39:40 What technology will be added in the future?